Did you know? The most popular coffee brewing method in the UK is the Cafetiere. Also known as the French press, it's the most used household coffee device and for a good reason. But choosing the proper coffee for cafetiere is a whole different story.
First of all, introductions are in order. I'm James, founder of Balance Coffee.
I'm here to share my coffee knowledge with you (10+ years) and share everything you need to know about finding the perfect coffee for cafetiere so you know you're enjoying the best from home. And if you haven't already, check out 9 ways to improve your work-from-home coffee setup. There are some valuable insights you'll learn from there.
There are so many different coffees available online that it can be hard work to determine the best option for your cafetiere coffee. Luckily for you, it's all about your taste preferences. So I'm going to help guide you through all the options.
Sit back, relax, grab a coffee and get ready to finally upgrade your coffee game at home.
Let's dive right in…
1. How to choose the right coffee for Cafetiere brewing
You might be asking yourself, what coffee do I need for my Cafetière?
Unfortunately, the answer isn't necessarily a simple one. Why? Choosing the right coffee has more to do with learning about your own personal coffee preferences rather than the method of brewing itself.
Before we get started, here's a quick overview of where coffee actually comes from and how it's produced. This will help you later on choose the best coffee for your cafetiere.
From Coffee Farm, To Cafetiere, To Cup
Coffee is grown in micro climates which provide the perfect environments to produce rich, delicious, flavoursome notes.
The journey of coffee begins somewhere near the equator, across what's known as the 'coffee belt'. Only a certain number of countries provide the perfect growing conditions for the coffee trees to prosper. These micro-climates can provide incredible opportunities for very exciting, rare and unique coffees to thrive.
Aspects like altitude and soil play a huge part in the flavour of the finished product.
At Balance, we have a selection of rare coffees which we source from the top 5% of coffee farms worldwide.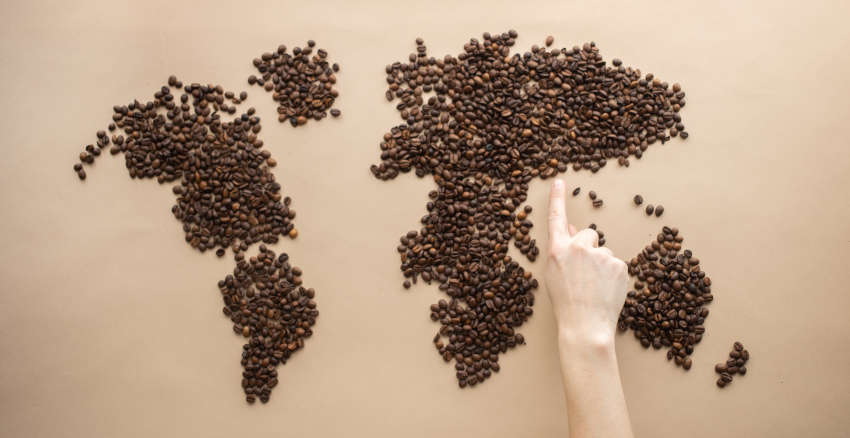 When the trees blossom, they produce coffee cherries. Inside of the cherries, there are hard, raw, green beans which are picked by hand by coffee farmers. (this is only quality coffee as commercial grade coffee uses machinery).
Once the coffee is sorted, it's shipped to coffee roasters from across the globe.
It's time to roast the coffee…
As each coffee and the location its grown is completely unique, we experiment to find the 'coffee sweet spot'. In other words, this is the golden circle of where the coffee tastes its absolute best.
To roast coffee, you cook raw green beans in a coffee roaster at temperatures between 188 to 282 °C, for somewhere between 8-20 minutes per batch. The time and temperature both affect the roast style and therefore, the flavour you are drinking.
Roast Type: Coffee for Cafetiere
The result of 'cooking' the coffee heavy influences the flavour notes that are produced in your morning cup.
Coffee roasters use the roast type as reference for flavour too. When the raw green beans arrive from origin, they are roasted to create a roasted bean.
Coffee roast types are broken down into three categories, which no doubt you'll be familiar with already.
There are many differences between light and dark coffee, but the main point is to understand that roast type directly affects the amount of flavours in each coffee bean.
We'll walk you through the individual characteristics of light, medium and dark roasts, so that you'll be very ready to experiment with different styles to find your favourite.
So how do you know what roast to choose when looking for coffee for your cafetiere?
Read on to learn more.
Did you know? Light profiles often have a lot more flavour components to the coffees. The roasting style brings out far more natural characteristics within the individual bean. In essence, it unlocks far more exciting flavours, that can be compared to wine.
Light roasts are typically best suited to filter coffee brewing methods like Cafetière, Aeropress, V60, Chemex compared to Espresso.
Generally, the flavour notes you'll experience will tend to be fruity and sweet focused. One of the challenges with lighter roast coffees is they are less versatile than medium and dark roast coffees – meaning you won't have as much consistency.
Roasting to a medium profile moves the needle further away from of the more fruiter, light coffees. Instead, with a medium roast you'll experience a deep, richer, chocolatey nutty.
Generally, the flavour notes you'll experience will tend to be chocolatey, nutty and sweet. Commonly described as perfectly balanced coffees (excuse the pun).
Dark Roast Coffee
Roasts which are dark are notable for their earthy and robust tones. Common notes of tabacco and bitterness which is the side-effect to the longer roasting time, since the coffee has been cooked for a longer period.'
There's no 'best' option as it's really down to you. At Balance Coffee we only roast like and medium coffees as we believe it best preserves the expensive coffees we source.
I hope this helps you understand where you might begin?
If you want to learn more on this topic, we've also put together an article on how to choose the right coffee beans.
Coffee Origins & Flavour Notes
Did you know? The world has over 50 coffee growing countries?
I'd need to write a complete article on this topic, but for today we'll keep it simple.
Below is our overview by continent, so you can gain a broad understanding to get your upgraded coffee journey started.
As each country has a unique climate condition for growing coffee, this completely shapes the end result of the beans. It's also a great way to learn what flavours you enjoy with your cafeitere coffee. Why? because you can use an origin as a reference when you are looking for particular coffee beans online.
African Coffees
Why is the African region such a popular choice? If you enjoy acidity in coffee with some bright fruity notes then you may have found your match.
A coffee from Ethiopia often has tea-like body and blueberry tones. Whereas, a coffee from Kenya typically has gorgeous grapefruit notes and a clean, crisp finish.

American Coffees

Central and South American coffee will likely be the coffee flavour profile that you're most familiar with. Why?
Because they are most commonly used in coffee blends, coffee shops and restaurants across the world. Primarily because they offer the most 'balanced coffee' experience (pun intended).
Generally speaking, you'll enjoy American coffees because they tend to be perfect all rounders. Understandably this cater to a wider audience.
Common flavours from this continent and region include, chocolate, nuts and buttery caramel notes. They also provide an incredible espresso base for milk based drinks which are undoubtedly the most popular choice in the UK.
Check out our top 11 best espresso coffee beans in the UK if you're looking for the best beans for your espresso!
Asian Coffees
You might be familiar with Asia for its enormous continent? With a good handful of its countries growing coffee, there is no short supply.
Indonesia, Thailand and Myanmar to name a few. In recent years, China has also been producing speciality grade coffee in its southern region closest to Thailand.
Now let's get down to the flavours of Asian coffee. Sweet, clean, fruity coffees is the inherent characteristics which are popular in both single origin formats and coffee blends.
Looking to experiment and discover new origins and flavours?
You might like our discovery coffee subscription which provides you with an exciting flavour experience on your schedule. We've also packed the subscription with additional benefits to you can get even more value.
Healthy Coffee vs Unhealthy
Ready for our next top tip in upgrading your coffee for cafetiere? I hope so…
Coffee that's been tested for Mould, Mycotoxins, Pesticides and other nasties are referred to as Healthy Coffee. At Balance we pride ourselves on being 100% nasty free.
Our sourcing practices ensure we bring you an organic coffee that gives you a clean energy boost to start your day. If you want to ensure these benefits on a weekly, monthly basis then explore our six coffee subscription benefits that will help you to power your morning.
Read our popular article on the benefits of healthy coffee.
Ethics and Sustainability in Coffee
If you care about choosing the ethical and sustainable option then that's great. It'll help people and our planet for the long term. I wrote an article on sustainable coffee here which you might like. ,
Next, you'll need to determine what companies align with your own personal sustainability values. There are some amazing coffee companies out there doing a fantastic job. You can review our initiatives here.
Here are some popular articles I wrote which you can read to go down the sustainable rabbit hole.
What's the Best Coffee for Cafetière?
This is the big question isn't it? Hopefully by this point you now have enough knowledge to get sampling different coffees from across the globe.
You'll just need to decide whether you purchase coffee beans, or whether ground coffee for Cafetiere is the best option for you. No sweat though, at Balance we have both options on every product.
There may still be a few questions you need answering relating to the coffee brewing process.
For example, how do you make cafetiere coffee?
And how coarse to grind for a Cafetière?
We have that covered too. I put together the ultimate cafetiere recipe explaining everything you need to know (including a video) so you can buy a bag of coffee and start making incredible coffee in just a few days.
Go and buy some coffee for la cafetiere and you're ready to go. I'm really excited for your improved coffee journey.
Ok, just one more secret tip, since you made it this far. Here's our cheat sheet on how you can froth milk in your cafetiere.
Let us know in the comments what you think, or reach out to us on Instagram.